Sample Loan Modification Lead
Jump Start Your Loan Modification / Loss Mitigation Business. Buy Fresh, Real-Time Leads Today!
This year is shaping up to be a record-setter for foreclosures. Now is the time for you to grow your business and help families stay in their homes! The market is only getting bigger as the financial crisis drags on . Give us a call and let us show you how to use our leads to take your business to the next level.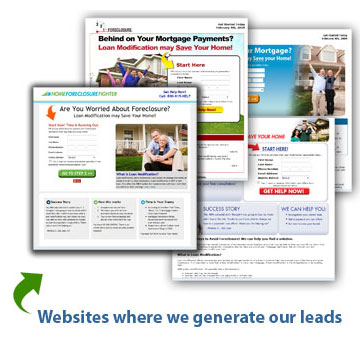 Sample Loan Modification Lead:
Each Loan Modification / Loss Mitigation Lead contains over 20 fields of information. Leads are generated online at Foreclosure Prevention sites such as LoanModificationConnection.com
Date: 05/07/08 10:05 (CT)
Lead ID: 70600

CONTACT INFORMATION
===================
Name: John Sample
Address: 555 HAWAIIAN PETREL AVE
City: MODESTO
State: CA
Zip: 95355
Primary Phone: 555-555-9729
Alt Phone: 555-555-9729 ext.
Email Address: sample-lead@yahoo.com
Income: 75000

MORTGAGE INFORMATION
================
Current Mortgage Balance: 300000
Approximate Home Value: 330000
First Mortgage Lender: Duxford
First Mortgage Interest Rate: 8.25
Existing Type of Rate: Adj
Do you have a 2nd Mortgage?: N
Are you behind on payments? Yes
Months behind: 4
Monthly mortgage payment: 2500
Notice of default: No
Foreclosure Date: NA
Comments: I want to save my house!
What leads are best for me?
Clients often ask us for tips on buying leads. We offer a variety of programs to help any size business succeed, from real time internet leads to batched files of aged data. We suggest testing a few different types of data in order to find your niche. For example, real time leads will close at the highest rate, but they will be the most expensive. Aged data is inexpensive, but requires more labor up front to find a deal. Give us a call at 1-888-219-8625 and one of our dedicated account representatives will walk you through the ins-and-outs of each type of lead to help you tailor a program to meet your needs.